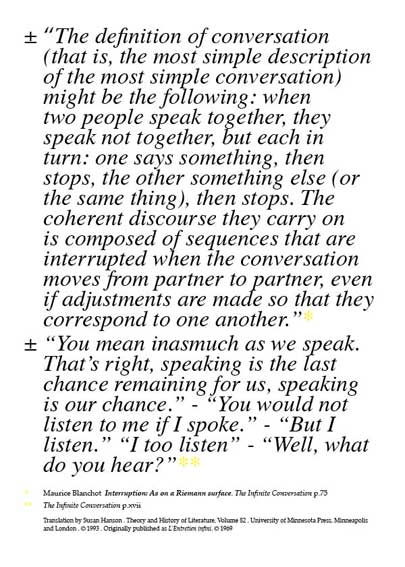 Fran Cottell: Five minutes with Five Years (Dogs)
Playing with ideas: A conversation between the temporary and the (more) permanent: The length of time a viewer engages with an art work.
A disrupted/interrupted conversation/concentration.
This performance was a staged gallery visit to the exhibition by Five Years, for dog owners, who were tasked with concentrating on writing comments on 8 works for one minute each, whilst their dogs were engaged/disengaged with their owners or each other.



So Good. So What: Mythologies Of The Artist-run Initiative.
Proposed open discussion/ conversation questioning the presumptions of the Artist-Run DIY Initiative. Once you've given yourself a show… what do you do? All invited. (This was tried out as part of Yes. Yes. I know. Free School. I know. at Five Years)

Brendan Quick: Open
Dear Edward, typical artist, one day late... was passed on information late yesterday... I'm an artist, a painter, who has always kept notes, descriptions, odd situations, scenarios etc. on index cards, which get guest edited, chosen, updated etc. as any number of different artworks. I attach a selection that became 'poetry' once (01&02) and a couple of others for no good reason. I simply propose to see what happens over a week with 100 cards or so, over any medium, as an 'open conversation', people can put them into any order, can dictate while I type anew, suggest something else entirely. With best wishes, Brendan


Hira Mandirina: Our Message From NYC
We are international art duo from US, planning an experimental event in New York City. We plan to turn it into canvas and paint our message on it. It will be possible to watch online: live in process and at any time - after. October 25th, is a proposed date for live realization. It will be going from noon (your time) on. To complete this project may take longer than an hour but it can be organized as a background event.
Francis Summers: A choreographed conversation: Speculative notes on symbolism, the death drive, the collection.
I propose to conduct a 30 minute lecture with accompanying video screening.
This lecture will formulate some thoughts in conversation with each other around symbolist aesthetics, psychoanalytic theories of the death drive and the act of collecting. Looking between the aesthetics of Stephane Mallarme as that of connection and arrangement, alongside the mysticism in the work of Edvard Munch I will discuss how ideas around the death drive might provide insight to the possible urgency of these practices for thinking about art now. As a backdrop for this I will pose some speculative questions around notions of collection – primarily in relation to strategies of appropriation and accumulation, of found objects subjected to an arrangement within a system. In doing this I will further discuss how a symbolist aesthetic, arrived at through the prism of the death drive, might afford a reassessment of what the art of collection might be.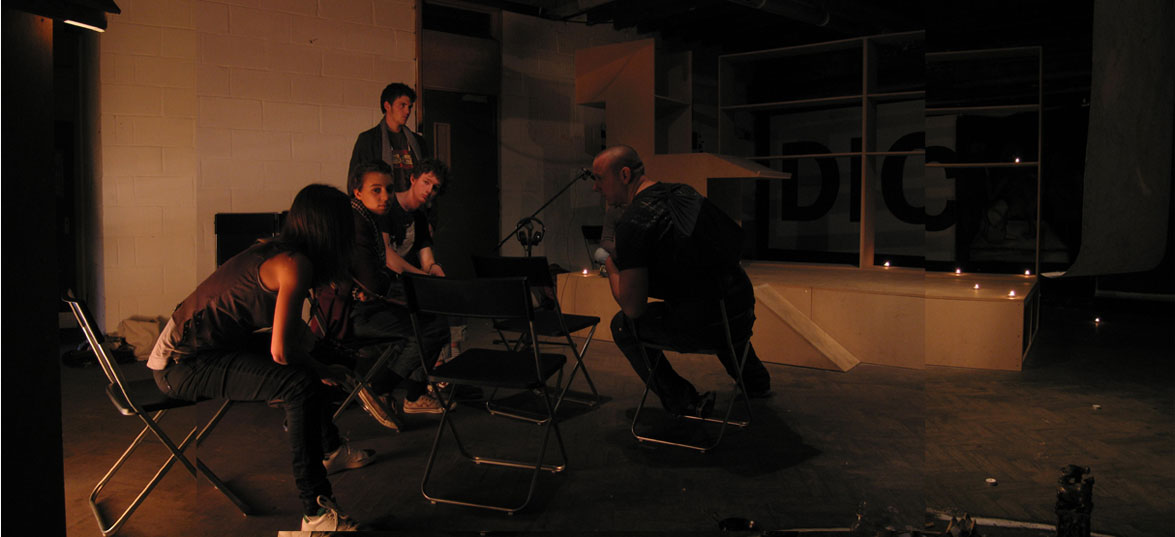 Aude Fondard: Ashes of Night
Ashes of the night is a ten minute dialogue between a ghastly voice and a triptych of paintings. The triptych, which acts as a visible and visual voice, responds in turn to the questions asked by the invisible but omniscient voice. This exchange reflects a tug of power between the wild and the divine that can occur within one's mind and exposes the fears and thought process of someone fighting its inner devils or refusing his/her own reality.After a triptych of pastels by Barbara Bianchi, Are you afraid of silence in painting?, Composition 1, Composition 2 and Composition 3, 190 x 145, pastel on paper. Please see document attached The performance is about 10 minutes long.


Anne-marie Creamer: Telling the tale of the rings, Greenwich, August 2007
I propose that I show either a video or stills and a transcript of a conversation I had with my sister in 2007. The work is part of a much larger project titled 'Ellipses…telling the tale if the rings' (please see http://www.ellipses.eu/ for more details). 'Ellipses...telling the tale of the rings, Greenwich, August 2007' is the first of a series of new works from the project 'Ellipses...'. This project focuses on the act of telling a story as the basis to create a story-telling machine forming a series of actions, conversations, photographs, videos, and a web-site in which my description of my experience of finding a wedding and engagement ring in a cup of cold coffee on a train becomes the starting point for an array of anecdotes, tales, rumors and actions by others. In this video work, which is the first of a series of 'Ellipses Rendezvous'', I meet with Caroline Creamer, my sister, in Greenwich Park, London, during August 2007.
Piper Mavis: Medium
Medium is a video piece exploring the ability of a medium to act as a conduit to facilitate a conversation between two people and two worlds that would otherwise be impossible.
Katharine Meynell Printing Wollstonecraft
A 2 min video Printing a short text whilst having a partial conversation
This is a short documentary, obliquely looking at a notion of transcription in book art. Made in collaboration with Susan Johanknecht at the Gefn Press and working between digital and letter press technologies, it reflects on the means of production, the object produced and the words that have become abstracted and iconic.
Gordon Dawson: Cloud Mime
Performance to camera slowed to c.30% in a looped sequence comprising 4 x 50sec sections screened on 9'' b&w security monitor would like it installed from opening (wed 14th) until Sun 18th at least possibly longer or for duration of show if appropriate.
Louisa Minkin & Michael Curran The Sun And The Moon
The sun and the moon debate the motion of the spheres: a dialogue of awkward silences.
Thanks to the Dog Owners and Dogs:

Tate Carpenter & Molly
Belinda Harris &Toby
Frances Ling & Ferris


From The Hackney City Farm's Volunteers:

Joanne Hoare & H
And Lulu Richards Cottell and Mike Richards for project assistance.
Edward Dorrian, Liz Harrison, Louisa Minkin and Terry Watts for documentation.
From The Well Street Common Users Group:

Caroline Gregory & Mabel
Judith Blundun & Romney
Simon Bulpin & 4 dogs including Le Chong & Winter